World Champions, 1948-Present
New Paris, Ohio
Winner to be determined between October 6th and 9th!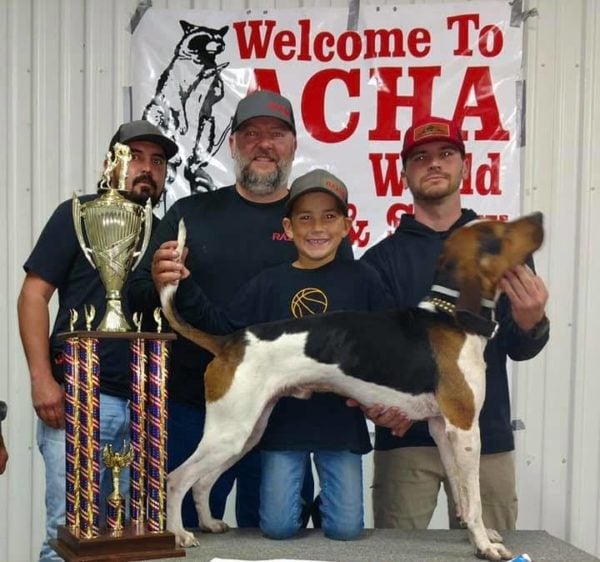 Milton, Indiana – Melvin owned by Johnnie Wadkins and Duel Murphy and handled by Duel Murphy.
Milton, Indiana –  Meet Joe Black – Walker Male – Owned and handled by Elmer Stoltz of Connersville, Indiana.
Milton, Indiana – Money Maxed Out – Walker Male – Kevin Cable – Connersville, Indiana
Stillwater, Oklahoma: Tax Write-off – Treeing Walker Male – Owned by: Larry Pulis and Chace McCaskill – Handler: Chace McCaskill
Lancing, Tennessee: – Wipeout's Incredible Catch: Treeing Walker Female: Chris Smith – Collinsville, Oklahoma.
Peru, Indiana: "Imel's Johnson Creek Abby" owned and handled by Nick Imel.
Peru, Indiana: Hannas Creek Feelin' Frisky owned by Brian Whitted and handled by Rick Stretch.
Stanford, Kentucky: "Magic Trick" owned by Mike Wilson of Eubank, Kentucky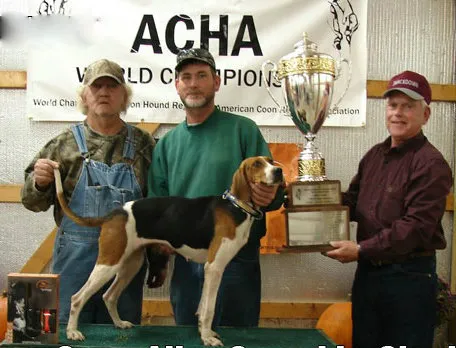 Sesser, Illinois. – "Crazy Alice" owned by Stout and Herring. Handled by Robbie Stout.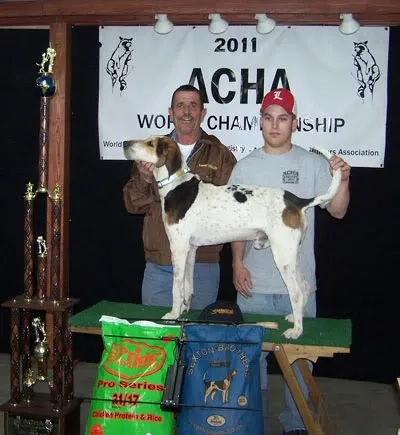 Glascow, Kentucky: "Buck Creek Cash" owned by Zach Whitaker and Larry Toller
Gainesville Creek Tank, Male Treeing Walker owned by Albert Clay of Michigan and Handled by Mike Miller Scottsville, KY
"Buck Creek Ike" owned and handled by John J. Monroe of Glenwood Missouri.
Boaz, Alabama NO WORLD CHAMPION – 1st Place – Barney – Walker Male Leslie Condra – Whitwell,TN
Atkins, Arkansas NO WORLD CHAMPION – 1st Place – What's Up Doc – Walker Male – Russell Bellar & Ronnie Bane – Gordonsville, TN
Atkins, Arkansas – Maggie – Walker Female – Thomas Primeaux – Lake Charles Louisiana
Claremont, Illinois – Stylish Rock – Walker Male – Brandon Duncan – Olney, Illinois
Claremont, Illinois – Bishop's Blue Grover – John Grover – Marinsville, Illinois
Claremont, Illinois – Hoosier Roxy Walker Female – Ron Wiegmann & Terry Coulter – Fort Wayne, Indiana
Robinson, Illinois – Aunt Bea – Walker Female – Alan Johnson – Cory, Indiana
Sumner, Illinois – Dan – Red Bone Male – Joshua Guffey – Loantville, Indiana
Central City, Iowa – Hack – Walker Male – Doug Cheek – Auburn, Indiana
Robinson, Illinois – Dancing Pepper – English Female – Bobby Walters & Paul Gibson – Jasonville, Indiana
Robinson, Illinois – Dancing Judy – English Female – Paul Gibson – Jasonville, Indiana
Harrisburg, Illinois – Rocky – Walker Male – Eddie Edminston – Fayetteville, Tennessee
Harrisburg, Illinois – Dollar Bill – English Male – Mike Raef – Fairmount, Indiana
Flora, Illinois – Frank – Walker Male- Loyd Mullins – Elyra, Ohio
Oak Harbor, Ohio – Emma – Walker Female – James Sample – Brickhaven, Ohio
Columbus, Mississippi – Hickory Creek Tom – Walker Male – J.D. Smith – Sandhill, Mississippi
Flora, Illinois – Fast Cash – English Male – Mike Raef – Fairmont, Indiana
Greenwood, Mississippi – Ramble – Walker Male – Tim Bouldin – Bone Cave, Tennessee
Flora, Illinois – Wild Wood Bo – Walker Male – Kent Meiers – Loami, Illinois
Columbus, Mississippi – NO WORLD CHAMPION – 1st Place – Gracie – Walker Female – Charles Butler – Knightstown, Indiana
Flora, Illinois – Smith's Ohio Clipper – Walker Male – Creed Smith – Hamilton, Ohio
Unadilla, Georgia – Boggy Bottom Bonnie – Walker Female – Dallas Morris – Sumter, South Carolina
London, Ohio – Patch – English Female – Carl Carroll – Crestline, Ohio
DuQuion, Illinois – Snipe – Walker Male – James Pie – DuQuion, Illinois
Pine Bluff, Arkansas – Hannah – English Female – Charles Beeville – Reidsville, North Carolina
Van Wert, Ohio – Sandy Ill – English Female – Hank Horn & R.F. Dickey – Elkhart, Indiana & Franklin Alabama
Pine Bluff, Arkansas – Striker – Walker Male – Russell Bellar – Peru, Indiana
DuQuion, Illinois – Red Eagle Dick – Walker Male – Gary Hern – Waterloo, Indiana
Pine Bluff, Arkansas – NO WORLD CHAMPION – 1st Place – Eileen – Walker Female – Ken Mishorich – Hartstown, Pennsylvannia
Norwalk, Ohio – Speck – English Male – Ed Bates – New Vienna, Ohio
Conway, Arkansas – Bandit – Walker Male – Robert Wagner – Hopkinsville, Kentucky
Norwalk, Ohio – Spike – Walker Male – Doc Whitaker – Cloverdale, Indiana
Pine Bluff, Arkansas – Torn – Walker Male – Harold Trusty – McGhee, Arkansas
Van Wert, Ohio – Tennessee Lead – Walker Maie – Billy Leadbetter – McKenzie, Tennessee
Pine Bluff, Arkansas – Diamond Jim – Walker Male – Buddy Gilbert – Sheridan, Arkansas
Oblong, Illinois – Beanblossum Buck – Walker Male – Pride Gann – Hamilton, Alabama
Van Wert, Ohio – Crowding Billy – Walker Male – Buddy Gilbert – Sheridan, Arkansas
Jackson, Tennessee – Danny Boy – Walker Male – J.P. Tyree – Lewisburg, Tennessee
Van Wert, Ohio – Gann's Finisher – Walker Male – Pride Gann – Hamilton, Alabama
Bloomsfield, Iowa – Carolina Casey – Walker Male – Jim Mathis – South Carolina
Oblong, Illinois – Carolina Casey – Walker Male – Jim Mathis – South Carolina
West Pointe, Mississippi – Van Zant's Sam – English Male – Berton Oney – Ohio
Jackson, Tennessee – Spring Creek Smokey – Walker Male – Duane Clark – Missourri
Lee's Summit, Missouri – Finley River Spot – Walker Male – John Monroe – Illinois
Oblong, Illinois – Stan's Sailor Jr. – Walker Male – W.O. Stanfill – Spring Hill, Tennessee
West Pointe, Mississippi – House's Bawlie – Walker Male – Joe House – Clinton, Kentucky
Bloomsfield, Illinois – Katies Rowdy – Walker Male – Jesse Lutes Jr. – Lexington, Kentucky
Greencastle, Indiana – Stan's Sailor Boy – Walker Male – W.O. Stanfill – Spring Hill, Tennessee
West Pointe – Mississippi – Deep River Mike – Walker Male – Jesse Lutes Jr. – Lexington, Kentucky
Oblong, Illinois – Hair's / Merchant's Fanny – Walker Female – Clay C. Hair – Athens, Tennessee
Greencastle, Indiana – Merchant's Bawlie – Walker Male – James Merchant – Belknap, Illinois
Tupelo, Mississippi – Reb – Redbone Male – Frank Rollens – Nashville, Tennessee
Oblong, Illinois – Merchant's Bawlie – Walker Male – James Merchant – Belknap, Illinois
Bloomsfield, Iowa – Merchant's Bawlie – Walker Male – James Merchant – Belknap, Illinois
Jackson, Tennessee – Lady – English Female – Clovis Stanfill – Lexington, Tennessee
Greencastle, Indiana – Swamp Rose – Redbone Female – V.X. McWillimas – Miamisburg, Ohio
Alamo, Indiana – Incredible Rock – Walker Male – Wade Derryberry – Spring Hill, Tennessee
Alexander City, Alabama – Incredible Rock – Walker Male – Gwen Derryberry – Spring Hill, Tennessee
New Albany, Mississippi – Jack – Black and Tan – Hardie Richardson – Ripley, Mississippi
Blue Springs, Mississippi – White River Boone – Walker Male – Lester Nance – Arcadia, Indiana
Wickliffle, Kentucky – Dan – Redbone Male – Leroy Campbell – Blue Springs, Mississippi